« Blind As A Bat | Main | Cause I bet you could use a laugh.... »
February 04, 2006
I bring you to the 77th Carnival of the Recipes. Chocolate is the theme this week and some threw in non-chocolate recipes. "Scientists reported preliminary evidence recently that cocoa and other chocolates may keep high blood pressure down, your blood flowing and your heart healthy." With that in mind, I am grouping the recipies by dose!

Single Dose
Milky Way Cake: I wonder if you can use a different kind of candy bar?
Riverbottom Pie: Currently unclassified by dose since the recipe is not up yet.

Double Dose
Double Chocolate Chewies - This is a good one since it has minimal measuring. You only need 1 measuring cup and the rest is dumped in if you buy it in the right package.
Dipped in Chocolate: I am putting this in the double section, but it could easily go triple....
Very Fat Fudge Cake: Double chocolate and double ways to make it. (This is the 6th chocolate recipe I have posted and my mouth is still watering.)
No Measure Fudge: Here is mine. It meets my no measure requirement and has double chololate! Yum!
Mandarin Orange Cake: Invented by a 12 year old.


Triple Dose
Extreme Chocolate Brownies/Godiva Chocolate Martini/Chocolate Swimsuit: Wow, Wow, and Wow!!!
Irish Cream Chocolate Cheesecake: Chocolate cookie crumbs, cocoa powder, and more cocoa powder.


Quad Dose
Chocolate Almond Chewies: Woooo weeeee!!! FOUR kinds of chocolate!!!
Triple-choc cookies: To be consistant with my counting of chocolate, this one has 4 versions of chocolate. Cocoa Power counts in my book.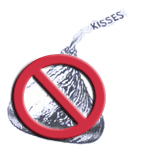 Un-chocolate Recipes
Bow Down Before The Cheese That Cannot Die! - This one is so bad it is good.
Soup is good food - zuppa toscana Homemade version of a good soup at Olive Garden.
Super Bowl Chili Another minimal measuring one!!
Ham and Bean Soup for Morons: She gives us measurements, but I bet I could get away with just guesstimating!
Cajun Sausage and Gravy: Another minimal measuring recipe. I have hit the jackpot! And it is easy to make! Score again!
Pumkin Bread Pudding: This recipe calls for Turbinado sugar. Steamed sugar!!!
Mama's Stuffed Pizza Sandwich and Bread Strata: Two recipes that use frenchbread with a nice graphic to help you out.
Griilled Chicken Proscuitto: Almost no "offical" measuring.
Drive-by "Recipe": Enhance your coffee with this one.
Chicken Stuffed with Potatoes and Olives: Easy and it has capers. Love me some capers.
Spaghetti Tricolore: Check out his suggestion for whole wheat pasta. Hope I can get some around here.
Grilled Peanut Butter and Banana Sandwich: I never thought of that! But grilled sounds great!
Danish Bacon: This sounds good and Martin is suggesting a Danish theme for the Carnival of the Recipes. Maybe he could host it!
Spicey Mussells: Punctilious only uses two cloves of garlic. Is that enough? And can he explain why you throw out the closed mussells?
Crockpost Pork Roast: Easy and again - no measuring!!!!

~~~~~~
Physics Geek is on the schedule for next week as tentative. Send your recipes in by noon next Saturday to recipe(dot)carnival(at)gmail.com.
Thanks for the opportunity to host....
Posted by on February 4, 2006 04:23 PM | Permalink
TrackBack
TrackBack URL for this entry:
http://blog.mu.nu/cgi/trackback.cgi/148662
Listed below are links to weblogs that reference Carnival of the Recipes - Chocolate:
» Carnival of Recipes #77 is Up!!! from Mostly Cajun, All American and Opinionated
Go visit Prochein Amy! A bunch of good stuff is there! ... [Read More]
Tracked on February 4, 2006 10:18 PM
Listed below are links to weblogs that reference Carnival of the Recipes - Chocolate:
» Carnival of the Recipes #77 from Everything And Nothing
Carnival of the Recipes is up. And thanks to Prochein Amy for doing the honors - and all of the work - this week. She had a theme of chocolate, which I didn't know about so didn't follow. But she [Read More]
Tracked on February 4, 2006 11:10 PM
Listed below are links to weblogs that reference Carnival of the Recipes - Chocolate:
» Dipped in Chocolate! from Mensa Barbie Welcomes You
Amy at: Prochien Amy! hosts: The Carnival of the Recipes #77! It's All Chocolate!!!! ----- What a great Carnival... Thanks! [Read More]
Tracked on February 5, 2006 01:38 AM
Listed below are links to weblogs that reference Carnival of the Recipes - Chocolate:
» 77th Carnival of the Recipes from In the Headlights
Prochein Amy, our next friend, hosted this week's carnival. Unbeknownst to me, the theme was chocolate. Sooo many lucious chocolate recipes. So I submitted chicken. Talk about a different drummer. Fortunately, several others were marching to their own... [Read More]
Tracked on February 5, 2006 09:22 AM
Listed below are links to weblogs that reference Carnival of the Recipes - Chocolate:
» Carnival of the Recipes #77 from pamibe
It's a Chocolate paradise at Prochein Amy's, where the latest Carnival is in full swing…! ... [Read More]
Tracked on February 5, 2006 09:51 AM
Listed below are links to weblogs that reference Carnival of the Recipes - Chocolate:
» For the Love of Chocolate from Morning Coffee
Carnival of the Recipes #77 is up for viewing and host Prochein Amy did a great job. The theme for this week is one of my favorite things in the whole world - chocolate! There's a mouthwatering selection of [Read More]
Tracked on February 5, 2006 10:25 AM
Listed below are links to weblogs that reference Carnival of the Recipes - Chocolate:
» Carnival of the Recipes #77 Chocolate from The Glittering Eye
The 77th edition of the Carnival of the Recipes, a selection of recipes from some of the best cooks in the blogosphere, is now ready for your reading, cooking, and eating pleasure. This time around our hostess is Prochein Amy and this week's th... [Read More]
Tracked on February 5, 2006 01:07 PM
Listed below are links to weblogs that reference Carnival of the Recipes - Chocolate:
» Eat Up from Electric Venom
The Carnival of the Recipes #77 is up! ... [Read More]
Tracked on February 5, 2006 02:04 PM
Listed below are links to weblogs that reference Carnival of the Recipes - Chocolate:
» Carnival of the Recipes #77 is up from The Muddy Trenches Weblog
Hi all, checkout the Carnival of the Recipes #77Â (chocolate themed). Also checkout my non-chocolate contribution, Grilled Peanut Butter and Banana Sandwich. Â Technorati Tags: carnival, recipes, food ... [Read More]
Tracked on February 6, 2006 08:34 PM
Listed below are links to weblogs that reference Carnival of the Recipes - Chocolate:
» obligatory linkage from Pereiraville
One good link deserves another… go check out the latest (and greatest?) Carnival of the Recipes over at Prochein Amy. Jim and I both submitted recipes for the first time. ... [Read More]
Tracked on February 6, 2006 08:36 PM
Listed below are links to weblogs that reference Carnival of the Recipes - Chocolate:
» Carnival of the Recipes, All Chocolate from Dubious Wonder
Riverbottom PIe recipe, a favorite with my family [Read More]
Tracked on February 6, 2006 08:38 PM
Listed below are links to weblogs that reference Carnival of the Recipes - Chocolate:
» Monday Linky Stuff from The Alliance
Your Precision Guided Humor Assignment: What T-shirt is cool enough to keep you from getting kicked out of the State of the Union Address for wearing it? Is due by 9pm EDT Wednesday, February 10th. Late entries must be accompanied [Read More]
Tracked on February 6, 2006 10:23 PM
Listed below are links to weblogs that reference Carnival of the Recipes - Chocolate:
» Healthy Recipe from Healthy Recipe
. 2005 AICR Recipe Corner. There's no reason eating for better health can't be exciting, fun and scr... [Read More]
Tracked on February 22, 2006 10:44 AM
Comments
Comments
Comments
Comments
Comments
Comments