« I will admit another thing.... | Main | Blog Cramp »
April 08, 2006
I love looking at handwriting. In High School I read books about handwriting analysis. I may post on that in the future, but this post is on a meme created by Logtar. I found his idea on Big Orange Michael's blog.
He uses a panagram and asks us to write it and post it. Here is mine....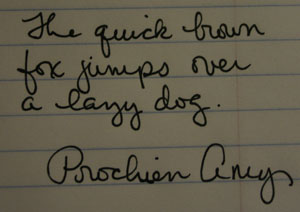 Let me know if you post one....

Posted by on April 8, 2006 06:34 PM | Permalink
TrackBack
TrackBack URL for this entry:
http://blog.mu.nu/cgi/trackback.cgi/160896
Comments
Comments